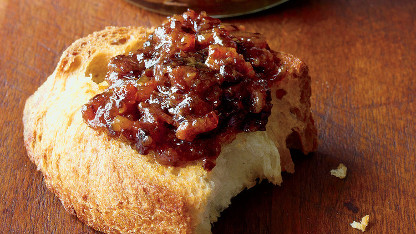 Because. BACON.
You know you want some.
Ingredients
1 lb good quality bacon
1 onion, minced
6 garlic cloves, minced
1/2 cup cider vinegar
1/2 cup brown sugar
1/4 cup maple syrup
3/4 cup brewed coffee
Fresh ground pepper and other seasonings discussed below
---
Directions
Cook down the bacon until it's rendered all the fat it can and drain on paper towels. Thinner cut bacon bacon works better but thick cut bacon can also be used. Remember that you want to render out as much fat as you can or your jam with taste greasy.
Pour off most of the bacon fat leaving a spoonful or two in the pan and cook the onions and garlic. Add the vinegar, brown sugar, maple syrup and coffee. Raise the heat and scrape the remaining bits off the bottom of the pan and stir well. Once it's thick and bubbly, lower the heat and add the bacon back in and let it stew gently while you play with the seasoning discussed below. Once your satisfied with your mix let it cool and put it through the food processor to get it to a jamlike consistency.
Transfer to a jar or storage container for the fridge. Best eaten within 2–3 weeks (if it lasts that long!).
Seasoning ideas
Above is the basic idea of bacon jam. Now you can personalize it and make it uniquely your own. Here are some ideas that you can consider adding to your jam to give it the flavor and consistency you desire.
Sauteed mushrooms
Sherry
Cayenne
Smoked paprika
Barbecue sauce
Bourbon
Hoisin Sauce
Black bean paste
Soy sauce
Dried fruit
Ketchup
Cocoa powder
Molasses
Butterscotch
Za'ataar powder
Cardamom
Fenugreek
MORE garlic!
Shallots
Yield
Never enough!