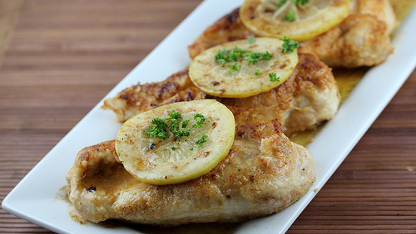 This is without a doubt one of my absolute favorites. It's pretty simple to prepare and the taste is... molto delizioso!
Ingredients
2 Cooked chicken breasts, cut in half
1/4 cup all-purpose flour
1 1/2 teaspoons garlic salt
1/4 teaspoon paprika
1/4 cup butter or margarine
3 tablespoons water
1 tablespoon lemon juice
1/4 teaspoon instant chicken bouillon
4 thin lemon slices
---
Directions
Remove skin and bones from chicken breasts. Mix flour, garlic salt and paprika. Coat chicken with flour mixture. Brown chicken in butter in 10" skillet. Remove chicken from skillet to serving platter and keep warm. Stir water, lemon juice and instant bouillon into skillet, loosening brown particles on bottom. Add lemon slices and heat over low heat 1 minute. Pour broth on chicken; Garnish with lemon slices and snipped parsley.
Yield
4 servings