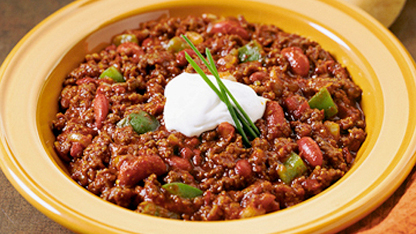 A simple chilli recipe which can be easily spiced to your liking!
Ingredients
1 lb ground beef
1 cup chopped onion
1 cup chopped green pepper
1 – 28oz can crushed tomatoes
1 – 8oz can tomato sauce
4 Tsp. chilli powder
1 Tsp. salt
1/4 Tsp. cayenne red pepper
1/8 Tsp. paprika
1 – 15 1/2 oz can kidney beans, drained
---
Directions
In large skillet, cook and stir meat, onion and green pepper until meat is brown and onion is tender. Drain off fat. Stir in tomatoes (with liquid) and remaining ingredients except kidney beans.
Heat to boiling. Reduce heat; cover and simmer 2 hours, stirring occasionally. Stir in kidney beans; heat through.
Like it hot? Experiment by adding more red pepper/chilli powder.
Yield
Makes 4 or 5 servings (about 1 cup each)