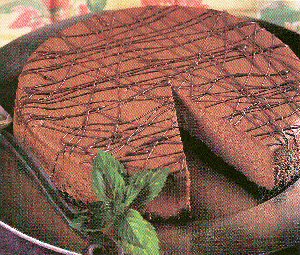 This one takes a little time but if you like cheesecake and are a fan of chocolate, you just can't go wrong. For a healthier choice, go ahead and add some strawberries to top it off.
Ingredients (Chocolate Crumb Crust)
1 cup Chocolate Wafer Crumbs
1/4 cup Butter or Margarine
Ingredients (Cheesecake)
3 – 8oz Packages Cream Cheese
1 1/4 cups Sugar
8 oz Sour Cream
2 Tsp. Vanilla Extract
1/2 cup Cocoa
2 Tbsp. All-Purpose Flour
3 Eggs
Ingredients (Chocolate Drizzle)
1/2 cup Semi-Sweet Chocolate Chips
2 Tsp. Shortening
---
Directions
Prepare chocolate crumb crust by combining chocolate wafer crumbs and butter. Press onto bottom of 9–inch springform pan.
Preheat oven to 450°F. Beat cream cheese and sugar until blended. Add sour cream and vanilla; beat until blended. Beat in cocoa and flour. Add eggs, one at a time; beat just until blended. Pour into crust.
Bake 10 minutes. Reduce oven temperature to 250°F and continue baking 40 minutes. Remove from oven to wire rack. With knife, loosen cake from side of pan. Cool completely; remove side of pan.
Prepare chocolate drizzle by placing semi-sweet chocolate chips and shortening in a small microwave safe bowl. Microwave at HIGH 30 seconds. If necessary, microwave at HIGH an additional 15 seconds at a time, stirring after each heating, just until chips are melted. Drizzle over top of cheesecake. Refrigerate 4 to 6 hours.
Yield
12 – 16 servings