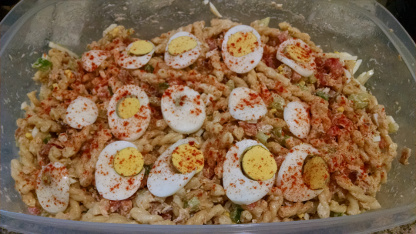 Macaroni salad so good it's a meal in itself! I cannot tell you how many times I have literally had just this macaroni salad for dinner.
Ingredients
1/2 lb Elbow Macaroni
Mayonnaise
1 Tsp. Onion Powder
1/2 Tsp. Garlic Powder
1/8 Tsp. Dry Mustard
Salt
Pepper
1 Medium Cucumber
1 Medium Tomato
1 Medium Green Pepper (Yellow or Red can also be substituted)
2 Large Eggs
4 oz can Tiny Shrimp
2 – 3oz Crumbled Bacon
---
Directions
Cook macaroni as per box. At the same time, in separate pan, boil the 2 eggs. Drain macaroni and run cold water over it to prevent sticking. Prepare cucumber by removing skin, quartering and removing the seeds. Slice up the four quarters. Prepare the tomato also by removing seeds and cutting into chunks. Prepare green pepper by removing seeds and cutting into chunks.
In a large bowl mix macaroni, mayonnaise (amount of mayonnaise will vary slightly with preference) and spices ( onion powder, garlic powder, dry mustard). Salt & pepper to taste.
Next, mix in prepared cucumber, tomato and green pepper adding additional mayonnaise if necessary/desired.
Finally, peel hard boiled eggs and cut with egg slicer, rotate egg 90° and slice again to effectively dice the eggs. Mix into salad. Drain tiny shrimp and mix into salad. Mix in crumbled bacon. Let set in refrigerator overnight.
Yield
6 – 8 servings