Steaks with Miso–Truffle Butter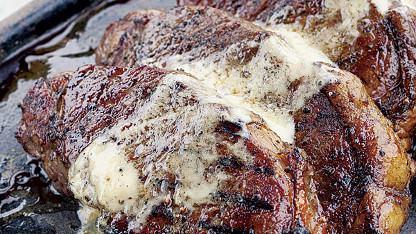 I know what your thinking. Butter? On my steak?? Trust me, I too was puzzled and unsure this would be something I tried more than once. Boy, was I wrong! You'll have leftover miso butter, but it will keep in the fridge for a week and can even be frozen.
Ingredients
2 (12– to 16–oz.) New York strip steaks, 1 to 1–1/2 inches thick
4 oz. (1/2 cup) unsalted butter, softened
1/4 cup white miso
1 tsp. white truffle oil
Kosher salt and freshly ground black pepper
---
Directions
Mash the butter with the miso in a small bowl. Mix in the truffle oil.
Season the steak well with salt and pepper. Let sit at room temperature for at least 1 hour or refrigerate uncovered for up to 48 hours.
If the steak is refrigerated, let it come to room temperature before grilling. For a charcoal grill, light a chimney starter full of charcoal and bank the coals against one side of the grill. For a gas grill, start with all burners on medium high and then turn off one or more of the burners to create a hot zone and a cool zone.
Pat the steak dry and grill over the hottest part of the grill, rotating it occasionally to create a crust, until well browned on one side, 2 to 4 minutes. Flip and sear the other side.
Move the steak to the cooler part of the grill, cover, and cook to your desired doneness (about 5 to 10 minutes for medium–rare). Let rest 5 to 10 minutes, cut the steaks in half, top each piece with 1 to 2 Tbs. of the butter and serve.
Leftover miso–butter?
The miso butter can be refrigerated, covered for up to 1 week or frozen. Bring to room temperature before topping the steak with it. You could also use this on pork chops and your favorite vegetables
Yield
4 servings